Mooove Ahead! of the corporate herd
Just getting started in the corporate world? Or just stuck in the back of the corporate herd? Want to mooove ahead in the corporate herd, soooner? This book will help.

Learn insights and tips from Managers; what they've learned and wish they had known soooner. Whether you're starting out or at mid-career, MOOOVE AHEAD! shows you how to mooove up the herd....and do it soooner.

Nearly all the business self-improvement books are about developing strategies. They're directed at the CEO. But what about the people starting out in the corporate world or the 99% of working people trying to become a "C" level leader (CEO, CFO, CTO, COO)? Where is all the day-to-day advice to help the corporate masses to learn about getting into a position to mooove ahead? Strangely there is little operational insight available for the corporate herd but this is where corporate workers need it most. You have to be promoted through many operational roles before reaching a "C" level position.
See samples of this book by clicking on the following links:
Book cover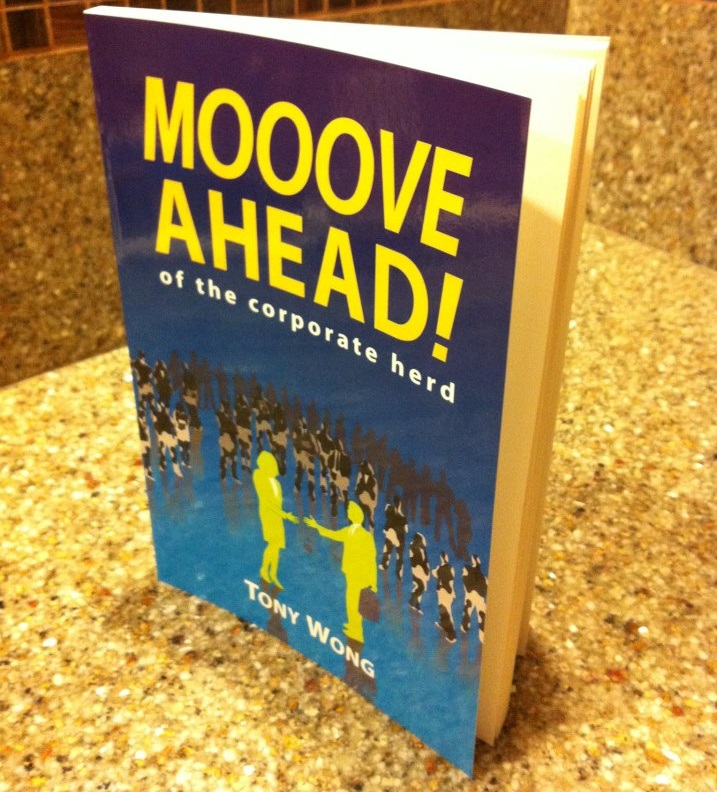 Buy this book
Click on any of the following links to buy your book.
Get a signed copy by the Author
To have a personal message and autograph handwritten by Tony in the book, please follow these steps:
1. Click on the "Printed version" link on the left. This will take you to the www.Lulu.com site where the printed books are purchased and fulfilled. Once there, order and purchase the book. And thank you in advance for contributing to the charities Tony gives all proceeds to
2. When you place the order, have the book "Ship-to" this address: PO Box 3338, Tustin, CA 92781. Your book will be shipped to Tony. He'll sign it and forward to wherever you instruct him to.
3. Send Tony an email (tony@moooveahead.com) indicating:
the name used to order the book (likely this is you)
who Tony is writing the message to and any special messages (such as the case if the book is a gift)
what postal address Tony should send the book to